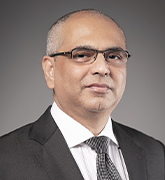 Jayant V Dhobley
Business Head and CEO, Global Chemicals, Fashion Yarn, & Insulators
Jayant V Dhobley joined the Aditya Birla Group in January 2021. Prior to joining ABG, Jayant worked for Amcor Limited where he led Strategy & Operations for the Asia Pacific region.
He has about 30 years of experience in the Specialty Materials, Polymers, Packaging & Chemical Industries of which over 17 years were with the Engineering Materials division of Royal DSM NV.
Jayant has worked across multiple functions (P&L, Strategy, M&A, Projects, Operations) in both regional and global roles. He has a deep understanding of Asia Pacific markets after living in Shanghai, China for 10 years (2002-12) followed by 8 years in Singapore (2012-20).
Starting a career in 1991 with product development in the SME sector, and after a short entrepreneurial stint, Jayant joined Greaves Cotton & Co Ltd in 1995 for their ABS/SAN Polymerisation & Compounding Plant project in Rajasthan. In 1999, he joined DSM India as the Operations Manager and helped to set up the Engineering Plastics business in India which was acquired from Century Enka in a strategic partnership. Jayant led large, multi-cultural teams and critical projects across his diverse portfolio over a long stint of 17 years with DSM before he joined Amcor in 2016.
Jayant has a B.E. in Polymer Technology from the University of Pune and is a Life Member of the Indian Institute of Chemical Engineers. He has attended Executive Leadership Programs both at Wharton School of Business USA and Duke CE USA.