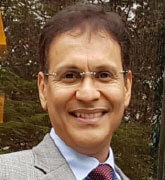 Kalyan Ram Madabhushi
CEO - Global Chemicals & Group Business Head - Fertilisers and Insulators, Aditya Birla Group
Kalyan Ram Madabhushi is a senior business leader who has worked for the past two decades (1996-2017) with Royal Dutch Shell in the Netherlands and Singapore. He last worked as a global general manager in the Shell Downstream Chemicals business. He returned to India after more than two decades and joined Aditya Birla Group (ABG) in early 2018, to lead the Group's Global Chemicals business together with its Fertilizers and Insulators businesses.
Kalyan has been the President of the Board of Shell Chemicals North East Europe (2008-12), Board member (2006-2009) - ISOPA (Isocyanates & Polyols Industry Association, Europe) & Chairman of the Board - Flexible Stabstock Foam Industry Group, Europe.
Kalyan is also engaged with regulatory authorities, leading negotiations on behalf of European Petrochemical Industry, engage European Chemicals Agency-ECHA (with President of ECHA on REACH, Product Registration and Testing issues) and leading Free Trade Agreements (India, S. Korea) - Advise Economic Development Board, Singapore, on behalf of the Industry to prepare for FTA negotiations.
With a Bachelor's degree in Mechanical Engineering (NIT Warangal, 1984-88) and an MBA specialized in International Business (Indian Institute of Foreign Trade, 1989-91), Kalyan continued his executive leadership learning at IMD Switzerland and University of Oxford. In his spare time, Kalyan coaches/mentors young entrepreneurs in Europe and Asia and delivers leadership lectures as a visiting faculty for business schools and student communities in France, Singapore and the Netherlands.
Married with a son and daughter, Kalyan was born and brought up in Hyderabad. He enjoys carnatic classical music & reading, and loves playing badminton and carrom.